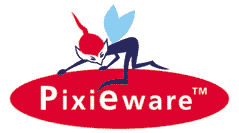 A Bit Aout Us:
Website Design and Data Extractions

By Dave Johnstone
Who We Are
History

The origins of PixieWare Software, back in the late 1980's were steeped in the PICK database and application systems development. Some of our software, used then, is still useful, and being used in a variety of legacy system situations, today. A testament to the value of our well written software.

PixieWare, the name, started life as PICKS-E-WARE as we had an early awareness of the need for a "more-user-friendly" front-end to the older PICK environments (R83, Advanced PICK, Reality, Universe, Unidata). Over time the name changed to PixieWare, through laziness - ease of spelling, articulation.

Today we still provide data extraction and connection services to legacy PICK systems, while we also extract data from the WWW, and build customised web-sites from scratch using the latest HTML, CSS, jScript, vbScript, and all hand-written with code editors.
Location
The owner of PixieWare Software (Dave Johnstone) is located in Kitchener, Ontario, Canada, about a 2 hour drive from the borders of the states of New York, Ohio and Michigan, and about 1 hour from Toronto. Being centrally located allows us to provide sales and support at times convenient to the east and west coasts of Canada and the USA, and of course to the restless, in other parts of the World.
Background
Dave has experience of many PICK systems (A/P, D3, Universe, Unidata, Ultimate, and McDonnell Douglas) since the 1980's. Dave has been involved with all aspects of the systems development cycle including project management, systems analysis and design, programming, and database management. Dave also has a wide industry experience including: accounts payable systems, accounts receivable systems, inventory management systems, manufacturing systems, purchasing systems, sales order processing systems and dealer management systems.
Dave continually keeps up-to-date with modern programming languages from his start with Assembler, COBOL, Fortran and Basic, to his current favorite Java and mobile app. deployment, while he's passionate about HTML and website development.
Other
Other products and companies referred to herein are trademarks or registered trademarks of their respective companies or mark holders. PixieWare Software uses links to other Web sites in good faith, and does not provide any warranties whatsoever, nor assume any legal liability or responsibility whatsoever, for the accuracy, completeness or usefulness of any of the information provided by the Web sites referenced in this document. PixieWare Software is not in any way responsible, and has no legal liability, in respect of the contents of the sites referenced from this document.
All goods and services purchased from PixieWare Software, including software given away at $0, are governed by an on-line contract which customers should carefully review before ordering. Amongst other things, this contract provides a limited warranty on all purchases.
PixieWare Software will not use or disclose personal information obtained about a Customer for any reason other than to maintain sufficient records for accounting and account-management purposes.
The software you download and purchase from this site is electronically distributed and is not subject to shipping and handling charges. At this time, sales transactions conducted over the Internet and with a party outside of Canada are exempt from having sales tax (or HST) applied to the transaction.
Please be advised that information presented anywhere in this web-site is subject to change without notice.